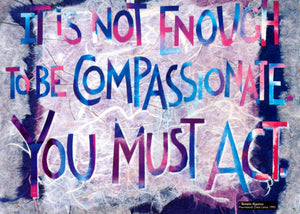 "It is not enough to be compassionate you must act." 
— Tenzin Gyatso, 14th Dalai Lama (born 1935)
About the original artwork: I created this piece at the request of the Central New York ACLU for the Ralph E. Kharas Award presented to Captain Lawrence Rockwood, US Army, for investigating human rights violations in Haiti. I used handmade papers and watercolor - woven together in some web of compassion. I wanted to put some color and form to the idea that our actions are our legacy. What we put into motion is the potential of kindness we offer our world.

Notecard, blank inside.