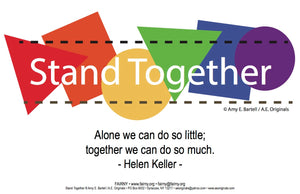 "Alone with we can do so little, together we can do so much." 
— Helen Keller
Strength in unity and respect for diversity. About the original art: I created this piece for FAIRNY.org - the Fairness Alliance of New York State - an educational organization that sponsors the LGBTQ booth at the New York State Fair - providing information and resources on issues ranging from bullying of LGBTQ youth, discrimination in the LGBTQ community as well as employment, housing and health issues.
The original piece was created with a concern for the range of the rainbow and the building blocks of community. It was intended to have an engaging clarity - distinct and representative of the need for connectedness in our world.
Available as a postcard and poster. The poster measures 11 by 17 inches.