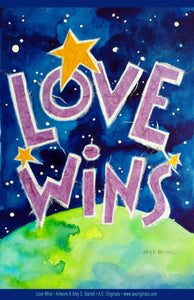 "Love Wins." If I had a family crest, this would be it - if I flew a flag outside my house, my studio, my office, my car, this would be it. These are the two words I believe in most. This is what I hold to be true. Of course, there is so much evidence to the contrary. Holding strong to this conviction is a radical act. I live in the relentless pursuit of it.

About the original art: I created this piece using watercolor washes. I wanted to reference a landscape bigger than any one neighborhood. The night sky is the one we all fall asleep under. The globe is the one we all call a home. The stars are some promise of recognition. Love wins. It has to.
Available as a postcard and poster.
The poster measures 11 by 17 inches.