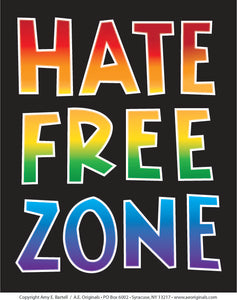 Hate Free Zone. Protect your space, your thinking, your sphere of influence - by naming what is not welcome. By insisting on an inclusivity. By demanding compassion and empathy. Post this on your window, your door, your mailbox - make it the backdrop of your zoom call, your office - let it frame your face.
About the original art: I created this piece using a rainbow wash of colors - I intended the boldness to be a signal of conviction. The letters are hand-cut. There is strength and certainty in the image.
Poster measures 8 by 10 inches.