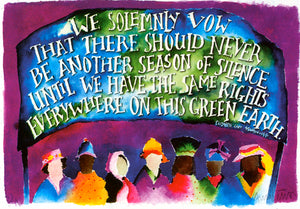 "We solemnly vow that there should never be another season of silence until we have the same rights everywhere on this green earth."
— Elizabeth Cady Stanton (1815-1902)
An American suffragist, abolitionist, and early leader in the women's rights movement, Stanton presented the Declaration of Sentiments, in Seneca Falls, NY in 1848.
About the original art: the original piece was painted in watercolor - with attention given to the details of their clothing. Suffragists wore purple for loyalty and dignity, white for purity, and green for hope. The right to vote is critical to our democracy - and, each ballot cast is a measure of our citizenship.
Available as a postcard, notecard and poster. The poster measures 14 by 18 inches.