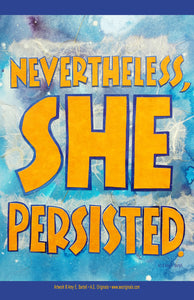 "Nevertheless, she persisted."
A feminist mantra - and a phrase used to silence Elizabeth Warren when the Senate rebuked her as she objected to Jeff Sessions' confirmation as Attorney General. Women are silenced in so many ways; misogyny permeates our culture.
"Nevertheless She Persisted"  is about the tenacity and courage women must show to be heard, to make themselves known, to accomplish their goals.  As Molly Murphy MacGregor, executive director and co-founder of the National Women's History Project says: "It's universal … you think about our mothers and grandmothers — they've been persisting for a very long time."
About the original art: I created this piece as a collage of handmade papers and watercolors - my intention was to be direct, bold - and show the qualities of determination women show everyday in their fight for fair and equal footing in this world.
Available as a postcard and poster. The poster measures 11 by 17 inches.